Nowaday, We're getting used to pallet – a flat transport structure, which help our forklift loading, goods storaging become more easier and safer.
Pallets are normally made from saw timber. They are strong but also have many problems such as: fungus, termine, cracking, waving and most of them do not get fumigated.
In a peroid of time not far from now, people start using compressed wood material to make pallet like LVL and woodchip block. They not only do not have problems like saw timber but also have excellent strength and many other great factors.
1. Woodchip block
Woodchip block is made from acacia fiber. People mix with glue then press in a moulding machine to become a block. We use woodchip block in LVL pallet which is also pest free and no other fumigation treated necessary.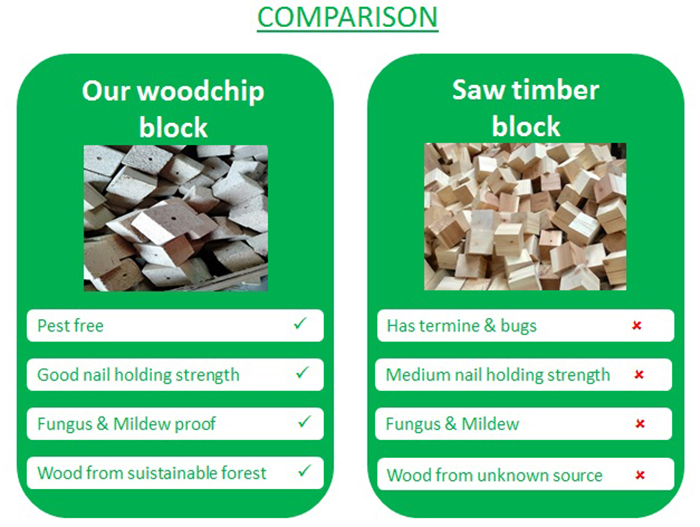 2. LVL plank
LVL is made from wood layers and hold together vertically by industry glue. Factory usually use hardwood material to make LVL use for pallet to increase strength and loading capacity.
After 2 times press, LVL are cut into selected dimension to make pallet planks.
Compared with saw timber plank, LVL has more advantages as: durable, no fungus, no cracking & waving, pest free, wide range size available.
TH PLYWOOD CO.,LTD supply high quality LVL & Woodchip block for making pallet directly from our factory in Vietnam.
Please contact us as below:

TH PLYWOOD CO.,LTD


Adress: No 6, 102 Khuat Duy Tien Street, Thanh Xuan District ,Hanoi
Factory: Tam Nong, Thanh Son, Phu Tho
Hotline: 0084-2461280996 ( hunting line)
Email: thplywood19@gmail.com

>>>>Click to get our best price now !